The Ronne Family
Please use the Links above to learn more about each member.

My Ronne family's Antarctic background is as follows:
My grandfather, Martin Ronne, was a Norwegian sailmaker and was on Arctic expeditions with Norwegian polar explorers Fridtjof Nansen and Roald Amundsen. He was on Amundsen's expedition to the Antarctic when he became the first to discover the South Pole in 1911. At the age of 67, my grandfather came out of retirement and went on the first US Byrd (Admiral Richard E. Byrd) Antarctic expedition (1928-9), as the only member of that expedition to have been there before, including Byrd. My father, Captain Finn Ronne, who became an American citizen in 1928, replaced him on the Second Byrd Expedition (1933-5), and later, as second in command, built a base in the peninsula area on Stonington Island for the U.S. Antarctic Service Expedition in 1940-2.
My father achieved his dream of having his own private expedition in 1946-8, the Ronne Antarctic Research Expedition, (one of only three private American expeditions, ever; the other two were financed by their wealthy leaders while my father, an immigrant, begged for donations from the government and geographical and scientific institutions). They reoccupied the buildings at Stonington Island. My mother, Edith "Jackie" Ronne, 20 years younger than my father, at the last minute, accidentally went along on the 15 month expedition, becoming the first American woman to set foot in Antarctica and the first woman, period, to over-winter there as an expedition member. She kept all the records and wrote newspaper releases. They mapped the last unknown coastline in the world along the Weddell Sea and discovered, named, and claimed for the US many new geographical features. My father named a huge area of land he discovered and mapped after my mother, the Edith Ronne Land, located at the base of the peninsula. This is a rare honor for a woman of non-royal birth. In later years, the name was moved slightly and changed to the Ronne Ice Shelf. You can see it on most maps of the Antarctic.
My father became a commissioned officer in the U.S. Navy and rose to Captain. He was involved in Arctic and Antarctic affairs his whole career, including selecting the site for Thule Air Force Base in Greenland and as military and scientific chief at Ellsworth Station, Antarctica, during the International Geophysical Year, 1956-6. In the sixties, my father led the very first tourist cruise to the Antarctic. Mom and Dad became the first couple (Mom, the 7th woman; the first 6 were news reporters) to stand at the South Pole in 1971. My father died in 1980 at the age of 80. My mother is still very active, living here in Bethesda. She is a celebrity lecturer on cruises to the Antarctic. Why aren't they world famous? Well, in Antarctic circles, they are, but they shunned publicity.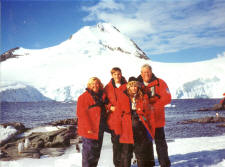 Earlier as a child, I accompanied them, with my cousin Jahn, to Spitzbergen (Svalbard) in the high Arctic back in 1962, when it was very barren. We visited Longyearbyen, Ny Alesund (old stomping ground of Martin Ronne's), etc. We also received special permission to visit Barentsberg (during the Cold War), where we received a warm welcome, and very fancy reception and banquet (with toasts to both countries and to the space-race).
I have made 6 trips to the Antarctic, in 1995, when we visited the old base at Stonington Island, and '96, '97, February 2000 and Jan/Feb 2002. My children, Michael (born November 10, 1983) and Jaclyn (born April 2, 1986), were the first - 4th generation in any family to go to the Antarctic when they went in December 1996-January 1997.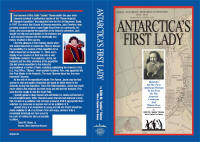 My father wrote 4 books and my mother has completed her story, recently published, "Antarctica's First Lady."
My mother was 31 and my father was 51 when I was born, which explains the "stretched" generation that I represent. My next youngest cousin (of whom I am aware) is Jahn Rønne, three years older, and he lives in Oslo, Norway. I live in Bethesda, Maryland.
Ronne Family Geneology Discussion Board
Horten boy, Finn Rønne:
followed in his father's polar footsteps
to the South Pole
by Svend Aage Madsen
Borreminne 2009, Horten, Norway
Translation by Eileen Fredriksen with edits by Karen Ronne Tupek
(see photo captions at end of translation)
The ice crackled under his feet and the cold turned his breath to steam. Finn was freezing, but the happiness he felt as he stood hand-in-hand with his wife Edith overwhelmed him with warmth. He stood at the realization of his dreams – his father's wish that he should one day follow in Martin's footsteps and travel to the land of the South Pole was fulfilled. To be sure, part of the dream had been carried out some years earlier, but now Finn was back – as leader of his own expedition. The goal was to demonstrate whether the Antarctic was a continuous land mass, or whether it was possible to sail through the freezing wasteland.
Many Horten folk had throughout the years left traces of themselves in history. But in modern times there are few who can better Finn Ronne (1899-1980), Antarctic explorer. When the lad from Horten received the honor of giving his name to the mighty Ronne glacier in the Antarctic, he wanted first and foremost to honor his beloved wife Edith, but since the last name comes from Horten we can also interpret that as a sign of local patriotism.
The name Ronne does not sound Norwegian but Finn was born in Horten, 20th December 1899. Along with so many other Norwegians who emigrated to the US, Finn made it easier for his new countrymen to pronounce his name. It was in 1923 that he left Horten for good. The thoroughly Norwegian Ø was changed to an O, but he never forgot where he came from.
"I came home to Norway and to Horten with my father several times." He spoke often of the pavilion in Lystlunden, and tears came to his eyes when he thought of the music, says Finn's daughter Karen Ronne Tupek to Borreminne. His wife Edith (born Edith Anna Maslin), or Jackie as she was known, died of Alzheimer's on 14th June 2009, at the age of 89.
Finn had an active youth in Horten where, amongst other sports, he played football for Ørn. He loved to compete, and did very well as a ski-shooter (biathlon). An interesting note: as far back as 1911 the Horten Ski-Shooting Team launched the idea of ski-shooting competitions, but the weather conditions made it impossible to hold a master championship before 1916. One of his favorite things was the trip to "Hortens Skiklubs Hytte Tuftaasen" (the Horten Ski Club cabin). The cabin was finished in October 1917, just a few months before the club's 25th anniversary.
"We have journal notes and stories where father speaks of camping trips on Løvøya, dances at Nykirke and other things he did with his brothers", says Finn's nephew Jahn Rønne, the son of Finn's youngest brother, John.
When the three youngest sons of sailmaker Martin grew up in Horten, a fair came to town from time to time. The carousel was "hand operated" to the extent that someone pushed the whole mechanism around. It was usually young lads who got this job. Finn and the two others often volunteered. They were paid with a free turn on the carousel. When they pushed each other around, they added on a few extra circuits and the carousel owner nearly had to threaten them to stop.
In the beginning, the Rønne brothers had limited contact their father Martin, as he spent most of his life away traveling. But when he was home, they were hardly ever inside.
"Sometimes, when the brothers had been out a bit too late, they tried to sneak in through a basement window at Prestegaten 12 so that their strict father shouldn't discover them. However, one time he did just that, and was waiting for them inside. All he said was: You boys are late!"
They obeyed their curfew as long as they lived at home. Right before Finn emigrated to America at the age of 23, he was sent off by his father to find John. At that time, his little brother, who was then 17, had been delayed several hours by bad weather on an excursion to Nykirke. A trip to the United States was obviously not regarded as a particularly important occasion in the Rønne family home. The same day Finn left home, his brother noted the following in his journal:
Tuesday 3rd April – Have begun at the shipyard. Stayed home this evening. Finn left today for Kristiania on his way to America.
In documentation at Ellis Island outside New York, the ship's records show that Finn Rønne was 23 years old when he arrived in the US as a passenger on board the Bergensfjord on 15th April 1923, no more than 11 days since he left home. His older brother Reidar had already emigrated, and lived in the town of Elizabeth in New Jersey. No-one knows what Finn thought of his leisure time on board the boat, but he was probably happy to talk with fellow passenger Peder Jensen (31) who also bid Horten farewell.
Wanderlust
Wanderlust was probably in Finn's blood since he was a young lad. However, he was far-sighted enough to complete three years' education as a boiler technician at Horten Technical School before he took the leap out into the wide world. A world his father, polar pioneer Martin Richard Rønne (born in Hamar 15th September 1865, died in Horten 23rd May 1932) would certainly have talked about frequently during those periods that he was home with his wife Maren Gurine Gulliksen (1865-1936) and the couple's seven children at Prestegaten 12. And it is impossible to tell the story of Finn's adventure in the ice-cold south without taking a closer look at his father's contribution.
Martin's great achievements and adventures on the world's oceans are also worth a story. There was a strong spirit of adventure in the Rønne family. Great-grand-father sailed around the world, and made sure early on that Martin got his sea legs. Martin went off to sea as a 13-year-old, and came home a fully experienced sailor before he was 17. As a young captain he was welcomed into the Navy and after that he sailed around the world on different merchant vessels. Martin's plan was to end his career as a sailor at 40, but as it happened Roald Amundsen asked him to join the Fram expedition.
Amundsen in Horten
"I have been interested in Polar travel since I was a young lad when I followed the work of Amundsen, Nansen and the other great Polar explorers", writes Finn Ronne in his book, Antarctic Conquest, the story of the Ronne Antarctic Research Expedition, 1946-1948. His interest was probably seriously awakened when Martin and the crew returned to Norway in 1912. They were to head for the capital, but the crew from Fram had a short stay in Horten first.
"The youngest Rønne boys run down to the harbor as quickly as they can when the neighbors call out that their father has arrived. But the crowd is so big that the boys can't get on board before the crew has left the ship. The garden at home at Prestegaten 12 is full of people. Martin Rønne and Roald Amundsen are in the middle of this interested crowd. The boys are disappointed. They had looked forward to meeting their pappa again, but he is most occupied with the grownups."
According to a brief mention in the 12th July 1912 Aftenposten, the Horten Municipal Council held a big get-together at the Naval Society to "honor the homecoming South Pole travelers Prestrud, Wisting, Rønne and Gjertsen, who are all connected to Horten and the Navy". The occasion is described as very lively, and included words for the honorary guest Roald Amundsen. The late Navy Captain Ole Engelstad was also remembered. He would have been the expedition's second-in-command, but he died during preparations when he attempted to fly in the air with a kite at Vealøs.
Coincidences
Finn Ronne became a US citizen in 1929. In those early days he worked as a mechanical engineer at the Bethlehem shipyard in Elizabeth, New Jersey. Later on he moved to Pittsburgh where he worked as an engineer for Westinghouse Electric Corporation.
It was a combination of coincidence and self-will that contributed to Finn Ronne's coming to Antarctica for the first time in 1933. His father, Martin Rønne, followed Amundsen for over 20 years. Martin was originally employed in the Navy, but finished up seeking permission to work with the Polar explorer. He did not go on the actual trip to the South Pole itself, staying instead on Fram.
Nonetheless, Amundsen never concealed the fact that the expedition would not have been successful without the sail-maker from Horten. It's true that Martin was a clever technician who made sure that Amundsen and the other explorers at all times had the best technical equipment it was possible to make. The special tent featured in a photo from 1911 (taken by Olav Bjaaland) where Roald Amundsen, Halmer Hanssen, Sverre Hassel and Oscar Wisting can be seen honoring the Norwegian flag at the South Pole, was made by Martin Rønne. And Roald Amundsen himself describes how happy he was when he went into the tent and read the message Martin Rønne and Andreas Beck had written on a piece of leather and sewn into the canvas:
Welcome to 90 degrees south
Handpicked
Martin had originally decided to return to terra firma for good after Roald Admundsen died in 1928. He felt that he'd spent way too much time away from his family, and looked forward to enjoying his retirement in Horten. But fate had something else up its sleeve. It turns out that the American explorer Admiral Richard Byrd had sought Amundsen's advice, asking him to recommend people for a large Polar expedition. Two requests to go to the South Pole were sent by telegram, and both times Martin said no. But the third time Byrd asked him to join, the pay was so good that he felt he would be an idiot to say refuse. And at that time there were no problems getting to the southerly waters. Martin took the whaleboat C.A. Larsen to the US before the whole fleet took off for the Southern Ocean. The Byrd Antarctic Expedition lasted from 1928 to 1930.
The return to Antarctica was a vivid experience for Martin who is described as a sentimental man. It was 18 years since he had last been in these inhospitable parts of the world. Now he was celebrating his 68th birthday at the American base, Little America.
Byrd wanted Martin to accompany him on the next big expedition in 1933-1935, and the exchange of letters between them indicates that he was in on the secret preparations. But Martin's health became an issue, and he was content to finally become a retiree alongside his wife Maren Gulliksen. He loved making model ships. Martin died in 1932, and Maren in 1936. They are both buried in the Horten church cemetery.
Admiral Byrd's close relationship with Martin Rønne was the key to opening doors for Finn to the pleasures and travails of Polar life.
On 16th August 1929, he received a telegram in response to his request to join Byrd's next expedition as a ski expert. The offer also applied to his youngest brother John (1905-1987), but because of their father's death and their mother's need for care, John returned home from the US and let Finn take up this unique opportunity.
If you are half the man your father was, I will be happy to have you on my next expedition, wrote Admiral Byrd when he invited Finn to join his second major expedition which was to take place from 1933-1935.
In 1934, Finn Ronne set foot on the ice of the Antarctic for the first time. Martin was known for his "seventh sense" and must have had a premonition that Finn would follow in his footsteps. The story goes that Admiral Byrd showed Finn his father's old bed where Martin had taken a knife and scratched the letters of Finn's name.
"It was as if the old man knew I would come here", notes Finn in his memoirs.
A more rational explanation might be that Finn had many times told his father of his wish to come to the South Pole. He and his brother John had weekly radio contact with the Byrd expedition in the years 1928-1930. Each Saturday the brothers would communicate – via radio – the latest news from the world to the men in the icy wasteland.
Finn was 34 years old when he joined Byrd as ski expert, sled dog leader and radio operator.
His expertise in skiing and weapons no doubt proved to be useful. And after a while the rumor went around that his dogs were the only ones to understand key words in both Norwegian and English. Man and dogs covered almost 10,000 kilometers in each other's company while they explored the enormous icy wasteland.
The President's signature
Finn was an obvious choice to be a member of Byrd's second expedition in 1935. And he went to Antarctica for a third time with the large US expedition during 1939-1941.
The story goes that it was Ronne, who in 1939 had planned his own Antarctic expedition, but that the plans were suddenly "taken over" by Byrd and increased to a large official 1939-1941 expedition under Byrd's leadership. Ronne went along as second-in-command.
He commanded the East Base in Palmer Land, and undertook a 2,034 kilometer long mapping sled trip in 84 days. He and Carl Eklund during the US Antarctic Services (USAS), accurately charted the position of over 320 Polar mountaintops, and nearly 1,000 kilometers of unexplored coastline. In this context, Finn Ronne Bay and Ronne Entrance were named after the family name from Horten.
During the Second World War, Ronne was responsible for the maintenance and repairs boats; he become a lieutenant in the US Navy in 1941. He married his sweetheart Edith on 18th March 1944. Apparently she met the Norwegian-American who was 20 years her senior on a blind date back in 1942, and she fell in love with his charming dialect and wonderful Polar stories.
Throughout his life, Ronne expressed his belief that small expeditions to Antarctica were far more effective than large ones, and set out once again to plan his own expedition when the Second World War was over.
He had been second-in-command under Admiral Byrd, but his big dream had always been to lead his own Polar expedition.
In the summer of 1946, he was in the Canadian Arctic and North-West Greenland looking for sites for weather stations and Thule Air Base. Here he organized the Navy's Operation Nanook in the Arctic.
President Harry Truman himself signed the papers giving the Navy permission to lend Finn a ship and equipment – to demonstrate if possible whether Antarctica was a continuous continent or not.
In 1946-1948 the Ronne Antarctic Research Expedition were loaned boats and plans by US military and traveled with 23 participants to the old East Base.
First postmaster
In the context of this expedition, in 1947 the US authorities named Finn the first official postmaster in Antarctica. He took the oath of office, and himself recommended that the post office on Stonington Island should be named Oleona Base. The name was chosen very carefully, as Finn wanted to honor the Norwegian violinist Ole Bull, who in the 1800s established the Norwegian settlement Oleana in Pennsylvania.
"The task was confidential, and attracted great attention when it became known after the departure. Thus the expedition avoided being the recipient of mail from enthusiastic stamp collectors", writes Ronne in Antarctic Conquest, published by __ in 1950.
Since the days of glory of the Greeks, geographers have tossed around the idea that there was a large land mass in the southern hemisphere. They called it Terra Australis Incognita, the unknown land in the south. And many years were to pass before the explorers proved that South America, Australia and Antarctica were three continents. And there were reasons that Antarctica was the last to become known.
The principal goal of Ronne's 1946-1948 expedition was to discover whether Antarctica was a single continent, or whether there was an opening between the Weddell Sea and the Ross Sea.
During the course of the expedition he researched 400,000 square kilometers of uncharted land and the expedition took more than 14,000 aerial photos. Ronne Entrance to the George VI Sound had been named after father and son back in 1940.
As leader of his own expedition, Finn named a large section of Antarctica from Palmer Peninsula to Edith Ronne land. The name was eventually recognized by the U.S. Board on Geographic Names as one of the first areas surrounding the South Pole that was not named after a royal. When the area was further explored in 1957-1958 it was learned that what Finn thought was a continent is actually a gigantic glacier, and its name was then changed to Ronne Ice Shelf.
The stay in Antarctica also made Edith Ronne a person of historical significance. She and Jennie Darlington were the first women who wintered over in Antarctica. They would have had the honor of being the first women in Antarctica, but a Norwegian whaler is reported to have had a following of women with him on a long tour previously. Edith's most important task was to write the expedition's journal, and to send home news to American newspapers.
As for Finn, well there were a total of nine Pole trips for him. In the 1950s he was scientific and military leader of the American Weddell Sea Base. The American authorities honored him with as many as three gold medals. In 1965 he was named Knight of the Order of St. Olav, and in connection with this had an audience with King Olav.
Captain Finn Ronne died on 12th January 1980, and is buried in Section 2 of Arlington National Cemetery in Washington DC.
PHOTOS AND OTHER ATTACHMENTS
p. 8
Finn Rønne left Horten as a 23-year-old, but he was always proud of his Norwegian origins. Here he is posing in Antarctica with the Norwegian flag and that of the Explorers Club.
p.9
Finn Rønne at home in Horten, proud confirmant. Little did he know then that he would go down in history.
PHOTO: WILHELM WITTUSEN, Per Olaffs photo archives
p.10
A rare photo of Martin Rønne and his wife Gurine Gulliksen. In the picture Martin is wearing two medals. The smaller is the Norwegian South Pole medal designed by Ivar Throndsen, while the larger is the City of New York medal given to members of Byrd's expedition. Additionally, Martin received the Byrd Antarctic Expedition medal, Replica of the Aeronautical Chamber of Commerce and the Norwegian La Plata Society's medal. These were donated to the Norwegian Maritime Museum in 1932.
PHOTO: WILHELM WITTUSEN, Per Olaffs photo archives
p.11
"Fram"'s arrival in Horten. Ship in good condition. A conversation with Captain Nilsen. Captain Thorvald Nilsen, "Fram"'s leader. Horten, 10th July. Underway today. ….
[Cutting from Aftenposten, 17th July 1914.]
p. 12
(top left)
The son of sailmaker Rønne showed Byrd the way on skis. The triumph of skis over the plane. Admiral Byrd's expedition has, as is well known, been out in a couple of ugly situations. While provisions and equipment were being offloaded, the ice began to break up forcing the expedition's ship "Jacob Rupert" to head off, leaving the people on the ice alone. They had no luck connecting the people on the ice and the boat. Then pilot Harold June went up and …..
[Cutting from Aftenposten, 15th February 1934.]
(bottom left)
Finn Rønne as a 20-year-old. Note that he is wearing the badge of the Horten Ski Association on his lapel.
PHOTO: WILHELM WITTUSEN, Per Olaffs photo archives
(top right)
34-year-old Finn Ronne with Byrd at the Antarctic.
p. 13
(illegible) ski expert, sled dog driver and radio operator.
Photo: The Ohio State University Archives, Papers of Admiral Richard E. Byrd
p. 14
Sail-maker Martin Rønne spent many years of his life on board small, narrow ships. He was known for being a wizard when it came to making equipment that could withstand lading in Polar regions.
p. 15
Father and son. Top: Martin Rønne. Bottom: Finn Rønne.
p. 16
After his many adventures in the Polar regions, Finn Rønne was honored with, inter alia, the St. Olav's Order. Here the Polar hero from Horten is engaged in a pleasant conversation with King Olav during a meeting of the Norway-America Association.
p. 17
(top)
The great question. Is the South Pole continent composed of one or two continents? Aftenposten's entry from 24th March 1947
(text of cutting) All rights reserved. Is the South Pole continent one or two continents? American scientific expedition to investigate whether there is a sea route from the Ross Sea to the Weddel Sea. And leave behind them uranium deposits together with gold and silver under the ice masses – Norwegian-American Finn Ronne is head of the expedition (the rest is too small to read)
(bottom)
Signed photos with Finn Rønne's autograph are today sought-after collectibles.
pp. 18-19
Representatives of The American Geological Society wished Finn Rønne and his crew welcome home when they returned from Antarctica. In the front of the photo sits the sled dog Kasco, born in Antarctica.
p. 20
Finn and Edith "Jackie" Rønne were the first married couple to winter over in Antarctica, and on 7th December 1971 they were the first married couple to visit the South Pole. As a gift they had brought with them a picture of the tent Martin Rønne had built for Roald Amundsen 60 years earlier.
p. 21
This is the only picture taken of Martin Rønne and his three youngest sons Finn, John and Rolf, as adults. The photo was taken in New York on sail-maker Martin's return from the 1928-1930 Byrd expedition to Antarctica.
p. 22
(top)
Thor Heyerdahl visited Finn Rønne to seek his advice prior to the Kon Tiki expedition. Later the two explorers from Vestfold were to meet on a number of occasions.
(bottom)
Finn and his wife Edith with a map. Finn is pointing out the immense areas in Antarctica that still carry the Ronne name.
p. 23
(top)
Martin took enormous amounts of aerial photos over Antarctica on his expedition. But he was also dependent on good sled dogs to map out the enormous land areas.
(bottom)
The US Postal Service discussed making stamps specifically for use at the South Pole, but the project was not carried out. Instead, Finn Rønne made this philatelic treat. The letter is stamped at the South Pole both in 1934 and in 1947.
p. 24
(top)
Finn Rønne is buried at America's National Cemetery in Arlington.
(bottom)
Finn Rønne and Carl Eklund from the US Antarctic Services (USAS) precisely charted the position of over 320 Polar mountaintops, and nearly 1,000 kilometers of unexplored coastline. In this context, Finn Ronne Bay and Ronne Entrance were named after the family name from Horten.