Many more photos coming in future months.

Summer 2009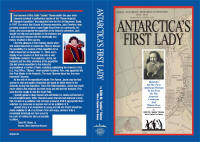 ---

On January 25, 1947, Edith "Jackie" Ronne
re-christened ATA-215 the Port of Beaumont, thousands of well-wishers cheered "bon voyage," and the ship departed the Port of Beaumont on a course to Antarctica.

Jackie's husband, Commander Finn Ronne, led this group of explorers on the last private expedition from the United States to Antarctica. All expedition participants were volunteers, including Beaumont's own Arthur Owen, an Eagle Scout from Troop 222 and Post 3, who was selected as the second Eagle Scout to go to the South Pole. The first was Paul Siple, who went with Commander Byrd on August 28, 1928. Commander Finn was also part of the Byrd Expedition. and his experience with Siple made him decide to have a Scout accompany his expedition as well.

The 183-foot, 1200-ton, wooden hulled ship carried 21 explorers, plus Beaumont Eagle Scout Charlie Landry, who traveled with the expedition as far as Panama, and then flew back to Beaumont, 21 crew members, scientific equipment, three airplanes, 30 tons of coal, a hundred 55-gallon drums of gasoline, dogs, food for two years, and innumerable other supplies.The 16,000-mile voyage began in Beaumont and ended in New York City, where New York Scouts were on hand to greet Arthur Owen on his return.

• January 3, 1947, the Post Office decided not to issue a stamp to commemorate the expedition since it was not an official government venture, although it had the sanction and support of some government agencies.

• January 5, 1947, Finn Ronne arrived in Beaumont to supervise preparations for trip, to raise money, and to lecture. He stayed at Hotel Beaumont.

• YMBL donated $500 to Ronne Expedition.

• Pennsylvania Shipyards donated $1000 to the expedition.

• Chamber of Commerce donated $1000 to the expedition.

• Port Neches Elementary grade students gave $15.86 in nickels, dimes, and pennies to the expedition fund.

• The Neches Boat Club donated $50 and formed an escort for the ship out of the port.

• Dispatches from the Antarctic base were datelined "the Port of Beaumont, Texas."

• Those who made donations to the Expedition were awarded scrolls naming them honorary members of the Expedition.

• The requirements for Boy Scouts who wanted to apply for Ronne Expedition were:

• An Eagle Scout who was at least 18 years old.

• Registered and active in Scouting in Beaumont.

• Recommended by their Scout leaders.

• Had the consent of their parents to make the trip.

• The local council narrowed a field of about twenty Beaumont Scouts to two finalists: Arthur Owen and Charles Landry.

• Charles E. Landry was selected to travel with the expedition to Panama and then returned to Beaumont by plane. This decision was made by local Beaumont men and the YMBL, who also funded his air passage back to Beaumont. Landry's credentials included:

• An Eagle Scout with palms and 37 merit badges who resided at 2260 Avenue C and was 18 years old in 1947.

• An Assistant Scoutmaster with Troop 11.

• Had held all positions of leadership in Scouting.

• Was employed at the Thompson Electric Company.

• Was a Marine Corps Veteran.

• Was a Texas A & M Student.

• The Expedition's three planes arrived at the mid-county airport and were dismantled and towed to the Beaumont shipyards for hoisting aboard ship.

• Technicolor movies made by Commander Ronne during his previous expedition were shown and/or he visited these locations:

• City Hall Auditorium

• Port Arthur Rotary Club luncheon (Commander and Mrs. Ronne and Arthur Owen were guests of honor)

• South Park High School

• Port Neches High School (visited by Ronne)

• David Crockett Junior High School

• China High School

• The meeting at which Ronne selected the Boy Scout finalist was held at Chamber of Commerce and attended by representatives of the Boy Scouts, the Chamber of Commerce, and the YMBL.

• The official flag of the Ronne Antarctic Research expedition was forgotten in the rush to prepare the ship, therefore Beaumont locals sewed another one:

• Jim Bettersworth, of the Bettersworth-Bordages Display company blocked out the flag.

• Mrs. M. E. Mills and her mother Mrs. N. E. Newman of 1205 Filmore Street, acquired the materials and sewed the flag.

• The combined South Park and French High School Bands played at the departure ceremony.

• Somewhere between 2,000 and 3,000 Beaumont spectators attended the Ronne departure ceremony at the port docks.

• One of the three Beechcraft planes prepared for the expedition was irreparably damaged in a loading accident at the shipyard and a new one would be received in Panama from the Army Air Force.

• Port of Beaumont stopped in Port Arthur for fuel.

http://www.southpolestation.com/trivia/igy2/tent1.html

Frontispiece Photograph of Jackie taken at the Base in Antarctica

Chapter 1 page 3 Photograph of Jackie taken in cap and gown for college graduation

Page 5 Finn in fur parka

Page 7 Jackie and Finn at their wedding or together in their apartment

Chapter 2 Page 11 Loading Norseman aboard ship at Beaumont, Texas shipyard

Page 11 Loading ship at shipyard in Beaumont, Texas

Chapter 3 Page 2 Group onboard Port of Beaumont near Panama ( l to r: Sig Gutenko, Larry Fiske, Finn Ronne, Chuck Adams, Jackie Ronne, Chuck Hassage, and Andy Thompson

Page 3 Chef Sig Gutenko, Aviation Mechanic Jimmy Robertson, and Second Mate Walter Smith

Page 5 Boy Scout Arthur Owen with two huskies tied-up on deck

Page 8 Jennie Darlington and Jackie Ronne aboard ship on way south

Page l2 Finn and Jackie working in their stateroom aboard ship, Port of Beaumont

Chapter 4 Page 2 Aerial view of Stonington Island showing Base and ship anchored in Back Bay cove

Page 4 Our Base including our hut, bunkhouse and science building

Page 5 Vandalism found at our Base upon our arrival

Page 11 Ship anchored in Back Bay Cove with glacier and mountains in background

Chapter 5 Page 9 George di Georgio and Art Owen digging out a food cache near Base

Chapter 6 Page 6 Unloading with visiting British ships Fitzroy and Trespassy in background

Page 9 Ronne Base from the air

Page 16 Larry Fiske and Bob Dodson hauling ice to make water

Chapter 7 Page 1? Meteological Peterson releasing a balloon from the meteorological tower

Page 10 First secret U.S. Post Office set up in Antarctica

Page 11 Installing Rhombic antennas for better radio reception

Page 20 Finn and Jackie with white puppy, Kasco

Chapter 8 Page 2 Bob Dodson in upper and Chuck Hassage in lower bunks in Bunkhouse

Page 6 Sig and Jackie in galley wrapping pemmican that he made for trail parties

Page 8 Bob Nichols, Finn and Captain Ike Schlossbach planning a field Coast to King George VI Sound

Chapter 9 Page 1 Jackie making coffee in her hut

Page 5 Peterson under his plastic dome taking the wind velocity

Page 11 Finn, Nelson McClary and Woodie lashing sleds in the Machine Shop

Page 15 British Leader K.S. Pierce-Butler having dinner with us

Page 29 L to R Lassiter, Robertson, Woody, Chuck Adams, Smitty, Andy Thompson, and Don McLean playing poker in Bunkhouse

Chapter 10 Page l Discussing trail and flight plans in our hut – top row: Fiske, Finn, Peterson; front row: Latady, McLean, Ike, Thompson, Nichols and Dodson

Page 11 Beechcraft plane "Ed Sweeney" being dug from the snow drifts

Page 13 Jackie washing clothes on stove with underwear drying on line above

Page 19 Peterson recovering from his near fatal fall down a crevasse

Chapter 11 Page 3 Harry Darlington

Chapter 11 Page 14 Finn saying goodbye and good luck to Bob Nichols at the start of his sledge trip down the coast

Page 17 Our little "Necessary House" on the hill

Chapter 12 Page 5 Our two Air Force Pilots, Lassiter and Adams in front of Norseman plane

Page 12 The three British airmen rescued after their plane crash stand between Finn and Ken Butler – Reg Freeman, Navigator; Bernard Stonehouse, Co-pilot; and W.H. Thomson, Pilot

Chapter 13 Page 2 Radio Operator, Lawrence Kelsey in our radio shack

Page 9 Exploration by dog sled

Page 19 Beechcraft being positioned for take-off

Chapter 14 Page 3 Cape Keeler Advanced Base

Page 20 Finn and Lassiter stopped to take a sun site out in the field

Page 2 Latady operating the trimetrogon cameras in flight in Beechcraft

Page 25 Andy Thompson analyzing seismograph sheet for possible earthquakes

Page 28 Adelie penguin rookery

Chapter 15 Page 2 Dodson and Nichols operating generator and radio in the field

Page 5 Weddell seal

Page 8 Smitty and Owen at their farthest south on the Ronne Weddell Coast

Page 18 Finn's birthday party in our hut

Page 20 Alexander Island

Page 25 Christmas Dinner

Page 28 Dodson and Nichols return from their 3-month geological trip

Chapter 16 Page 2 Loading planes onto ship for return journey

Page 9 Loading the L-5 plane

Chapter 17 Page 9 Cdr. Gerald Ketchus USN Commander of Task Force #39 consisting of the Navy Icebreakers Burton Island and Edisto visit us

Page 11 Jackie and Finn going aboard the Burton Island Icebreaker for dinner

Page 29 Our arrival in New York

Page 31 Greeting well-wishers on our arrival in New York

Chapter 18 Page l Jackie and Finn

Page 5 Finn and Jackie at South Pole in December 1971 with Commanding Officer Admiral Leo McCuddin

Page 10 Karen and Jackie back at Stonington Island Base in 1995

Page 11 Jackie lecturing for Antarctican Society or Explorers Club
About the Ronne Antarctic Research Expedition
RONNE ANTARCTIC RESEARCH EXPEDITION, 1946-1948- By Commander Finn Ronne, U.S.N.R. His accomplishments were greater than he expected. In a total flying time of 346 hours, the three planes had covered 39,000 air miles of Antarctic terrain. With no fewer than 86 landings made in the field, the planes had made extensive reconnaissances, laid caches for aviation and dog team parties, searched for the lost British fliers, transported personnel and equipment to advanced field bases, and carried on geographical exploration and trimetrogon mapping, discovering the last unknown coastline in the world, now the Ronne Ice Shelf.
Full Story: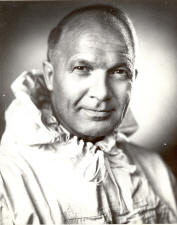 Commander (later Captain) Finn Ronne, USNR, led the Ronne Antarctic Research Expedition (RARE) of 1947-48. This was "the last large private expedition to Antarctica. It explored both coasts of the Antarctic Peninsula and the Weddell Sea's southern coast, both on the ground and with three ski-equipped aircraft loaned by the U.S. Army Air Force." [Jeff Rubin, "A Rare Reunion," The Polar Times, vol. 3 no. 6, January 2005, p. 4.]
Finn was Norwegian-born and educated, and already a veteran of two Antarctic expeditions, including the second Byrd expedition and the U.S. Antarctic Service Expedition. He was the son of Martin Ronne who, as a sail maker on the Fram, had accompanied Amundsen to Antarctica, and served with him for twenty years. Martin also took part in Byrd Antarctic Expedition I [1928-1930].
Finn was a remarkably self-disciplined man, well known for his lifelong excellent physical condition, and who had skied all over the Antarctic continent. Finn and Jackie, a State Department employee at the time, who graduated from George Washington University in 1940, met in Washington, D.C. in 1942. They were married on March 18, 1944.
As soon as WWII ended, Finn began planning another expedition. Admiral Richard E. Byrd, a friend of Finn's at the time, who lived only a block away, urged Finn to join forces with him, but Finn insisted on his own independent, private operation. Although Finn and Byrd had served together on the United States Antarctic Service Expedition, 1939-41, Byrd did his utmost to torpedo Finn's plans for his independent venture. Byrd even demanded that Finn give him all of his detailed plans, which reluctantly Finn did. These were then presented as Byrd's own plans for his own expedition; not even the wording of the proposal was changed. It seemed clear that Finn's erstwhile friend, Admiral Byrd, had "double-crossed" him.
Despite Byrd's strong opposition, there were still many offers of help to Finn, including Sir George Hubert Wilkins, General Curtis LeMay, Ed Sweeney, a long-time friend, the Office of Naval Research, and Allen Scaife, of the wealthy Mellon family of Pittsburgh. Although Byrd's fierce opposition failed to stop Finn's expedition, it did succeed in limiting necessary funding. Less than $50,000 was raised, and many participants were unpaid volunteers. Thanks to General LeMay, several military personnel were "seconded" to the expedition, including the two principal pilots. The Air Force also donated three planes, equipment, spare parts, and clothing. As Finn worked constantly on planning his expedition, Jackie's initial role was to edit and type all of his correspondence. At this same time, at the end of 1946, as he was presenting his proposal, Finn also served on the Task Force that created the Thule Air Force Base in Greenland, and he assisted Thor Heyerdahl in planning his trip across the Pacific on a balsam raft.
The Ronne Antarctic Research Expedition (RARE) departed for Antarctica from Beaumont, Texas, on January 27, 1947. Among the key personnel were the pilots Harry Darlington, Jimmy Lassiter and Lieutenant Chuck Adams, and the aerial photographer, Bill Latady, who used a trimetrigon camera to capture a horizon-to-horizon scan. There were three planes – a twin engine C-45 Beech, a Noordwyn C-64 Norseman, and a Stinson L-5. When one of the planes was damaged beyond repair while loading, General LeMay found them an exact match.
As she has recounted in her diary, which she kept every day of the trip, Jackie originally had no intention of going to Antarctica with the Expedition. Only the extreme persuasive powers of her husband, Finn, ultimately persuaded her to go. Since his native language was Norwegian, he needed her to write English-language articles for the North American Newspaper Alliance. These were written under Finn's name, and for a long time the press was unaware that both she and her friend, Jenny Darlington, were along. Both women faced strong opposition from their own family members (Harry Darlington, the pilot, at first was adamant that his wife should not go) and from some male crew members, who said they wanted no women onboard. Ultimately most of the men were supportive. One original doubter, Chuck Hassage, became Jackie's life long friend.
The final decision for the women to continue on to Antarctica was made in Valparaiso, Chile, where they purchased some essential clothing items including boots. A total stranger gave Jackie knitting needles that she used frequently; in fact, some of her knitting made with those needles is on display in the Naval Museum. The last port of call was Punta Arenas where the sea proved to be surprisingly calm even as they crossed Drake Lake. Walter Smith was the navigator, and always did an excellent job. The ship anchored alongside the Antarctic (Palmer) Peninsula right in front of the British base built there during the war.
After some initial awkward interactions, the British soon became good friends, and the British commander, Ken Butler, spent many congenial evenings in the Ronne's hut. Other prominent British participants were Kevin Walton, Charles Swithenbank, and Bernard Stonehouse. The latter was one of three British men rescued by pilots Lassiter and Adams after their plane, a small Auster, crashed on the Weddell Sea coast.
The role of the airplanes was of the utmost important to the Expedition. Unfortunately the weather was usually difficult or unpredictable. During the whole time the flying season took place, there were only eight good flying days. Peterson and Bob Dodson traveled by dog team to the upper plateau to establish a weather station to support the planes. While there, Peterson fell in a crevasse, but Dodson was able to ski back to the base for help. A search party was organized immediately in the dark. The British doctor, Budson, not only volunteered to go, but later was lowered into the crevasse to rescue Peterson who, incredibly, was still alive. He had been lodged upside down in the crevasse for twelve hours. His recovery was complete, but Finn was furious with both men since their disregard for rules of safety had led to this costly misfortune. The men were not roped properly, their sleeping bags were soaked, and Peterson stepped on the radio key and broke it. Both were largely confined to the island base for the remainder of the Expedition.
Another potential disaster was narrowly averted when McClary fell off a 150 foot ice cliff, and through thin ice into the water. Had it been totally frozen or liquid water, he would have been killed. Fortunately, help was nearby and he was pulled to safety. Later he suffered a broken collarbone in a sledding accident.
Jackie spent most of her time in the 12 square foot hut she shared with Finn, although she usually ate her meals with the group. There were no private toilet facilities for women. All had to visit the "little house on the hill" no matter what the weather. All of the men acted always as "perfect gentlemen" in the presence of Jackie and Jenny Darlington. She experienced a great deal of tension as "everything that happened worried me."
Over time, tension developed between Finn and Harry Darlington. Harry was third in command behind Finn and Ike Schlossback. Initially a close personal friend, Harry reportedly was undermining Finn behind his back. On several occasions Harry entered Finn's tent "screaming" about the dangers of the flights he had been assigned. Finally, Finn could tolerate no more such insubordination, and dismissed him. Lassiter and Adams took over Darlington's assignments. The two pilots never had any accidents or trouble, scouted unknown territory, and earned commendations from the Air Force. Ike Schlossback also wanted to fly. He was a trained pilot who had commanded surface vessels, underwater vessels, and a flight squadron, and was the only person in the Navy at the time who had done all three. But he only had one eye, and Finn never allowed him to take a plane up.
Harry was never reinstated despite pleas from certain friends, and later complained to Finn about the several short flights that Jackie made as a passenger. Jenny tried unsuccessfully to smooth things over with Finn and Harry. After the weather station had been established on the other side of the 6,000 foot-high plateau, an advance base at Cape Keeler was created. It was mainly an underground base, covered by snow, and connected by tunnels, but there was a command tent on the surface. There were caves going out from tent where people could stay with sleeping bags.
Two planes, the Norseman and the Beechcraft, departed south from Cape Keeler on exploring missions in the rare intervals of good flying weather. On one such flight Finn discovered Berkner Island, in the middle of the later-named Ronne Ice Shelf. (Finn initially named the entire area after Jackie's real name, Edith Ronne Land. Years later when it was determined that part of the territory was the world's second largest ice shelf, it was named Edith Ronne Ice Shelf, but Jackie asked the U.S. Board on Geographic names to remove her first name, so that it corresponded to the largest ice shelf, the Ross Ice Shelf. So, the Ronne Ice Shelf is named for Jackie, by her husband, Finn.)
Dog teams were never flown into the field, although occasionally a sick dog was flown back to base. The Chief Geologist, Bob Nichols, led a fifteen-dog team that gathered rocks, did glaciology, measured solar radiation and atmospheric refraction, and operated a cosmic ray machine. His party spent 105 days in the field. This broke the previous record of 84 days for a sledging trip set by Finn and Carl Eklund seven years earlier. Finn became irritated when Nichol's party did not keep regular radio contact.
Jackie developed a personal interest in science, and she worked as an assistant to Andy Thompson, a seismologist, who measured the first earthquake recorded in Antarctica, and recorded tides.
In February 1948, as warmer weather returned to Antarctica, and the sea ice began to melt, preparations for departure from Stonington Island were made. Gasoline supplies were low, and the flying program was over. The year in Antarctica had come to an end. An icebreaker cleared a path to the open sea. Rough seas hampered the trip northward, and food was running low. It was necessary to make an unscheduled stop in Punta Arenas. Here Jackie enjoyed her first fresh salads and vegetables in some months.
Jenny Darlington was pregnant, and she and Harry flew home from there. The ship proceeded up the west coast of South America, through the Panama Canal, and on to New York. Here the American Geographical Society hosted by Sir George Hubert Wilkins honored the party. Lincoln Ellsworth was also present. It was a wonderful occasion, but even so Jackie said emphatically, "I will never, never, never go back to the Antarctic."
But the lure proved irresistible, and she returned many times. She was a passenger on the first tourist cruise ever to the Antarctic. The ship visited Deception Island and an Argentine base. In 1971, Jackie and Finn were flown to the South Pole in Navy planes. A base, including the South Pole Dome, was under construction there, and Jackie and Finn made a radio broadcast to Lowell Thomas directly from the pole. Finn was the leader of the first Lindblad tourist cruises to Antarctica in the mid-1970's..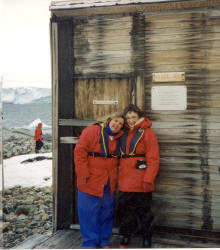 For about seven years, Jackie lectured on the Explorer and the Marco Polo. In 1995, as a lecturer on the Explorer, she and her daughter, Karen, visited the old base from the RARE expedition. Nothing was left. It was totally empty. Everything had been stolen by various nationalities coming down. Even the 300-pound cooking range was gone. "It was sad to see how the base had changed, and how everything had been stolen from it." Karen anchored in to the interior walls three plaques that she had made: one about her father's polar career, one about her mother being the first woman to overwinter, and one about the overall Ronne expedition.
"The Ronne expedition achieved a great deal, exploring more than 250,000 square miles of Antarctica. By overflying the Antarctic continent's, and the world's, last major stretch of unexplored coast, along the Weddell Sea from the Antarctic Peninsula to Coats Land, the expedition determined that the Weddell and Ross Seas were not connected. In 346 hours of flight time, including 86 landings in the field, RARE took nearly 14,000 photographs covering 450,000 square miles." [Jeff Rubin, The Polar Times, vol. 3 no. 6, January 2005, p. 4.]
A feature length documentary, shot on digital video, describing the Ronne Antarctic Research Expedition. In January 1947, this small, impoverished scientific expedition sailed from Texas. Aboard their 183-foot tug christened Port of Beaumont were 40 dogs, 3 prop planes and 22 crew. Their mission was an ambitious one: map a quarter-million square miles of territory from the air, determine if the Antarctic was one contiguous continent and conduct an array of field work in meteorology, geology and astrophysics. More remarkable than the difficulties they would overcome or the knowledge they would bring home were the two women numbered among their crew - the first such expedition ever to include women.
Edith Maslin "Jackie" Ronne was a 28 year-old Baltimore native on leave from her job at the State Department. Two years earlier, she had married Finn Ronne, a Navy captain 20 years her senior. By 1947, Finn had successfully organized the third and last privately funded expedition to Antarctica. Jackie accompanied him to Texas to bid farewell. Jennie Darlington, 22, had married Harry Darlington, the chief aviator, a few months earlier. Their time together in Texas was their "honeymoon." Finn prevailed upon Jackie to sail with him as far as Panama to assist with administrative work. Jackie asked Jennie to join her so she wouldn't be the only woman aboard. Jackie's administrative tasks multiplied and in Valparaiso Chile, Jackie agreed to accompany the expedition the whole way. Over the unanimous objections of the crew, Jackie and Jennie became the first women to winter in the Antarctic. Jackie served as expedition secretary, filed stories under her husband's byline for the North American Newspaper Alliance, and helped scientists gather data. Jennie's accomplishments were more personal. She returned bearing the first child conceived in the Antarctic.
Conquest of Antarctica was a risky enterprise fueled by personal pride and nationalist fervor. The men attracted to Polar exploration frequently had greater courage and curiosity than commercial or government support. They were, by necessity, dogged and egotistical. Finn Ronne was no exception. A Norwegian from a family of seagoing men, his father had sailed with Amundsen on his conquest of the South Pole and with Admiral Byrd. Finn sailed with Byrd's Second Antarctic expedition (1933-35) and the U.S. Antarctic Service Expedition (1939-41). For fourteen years, he nurtured the ambition to lead his own expedition.
Part 1
Part 2